The loft apartment is one of 11 popular types of rental apartments in Vietnam. You may be able to hear a few other names like loft apartment or Lofthouse. You can find loft apartments in condominiums or serviced apartment buildings. The area and design are quite similar, sometimes it looks like a duplex or a studio. So what is a loft apartment? And what are you waiting for about loft apartments in Vietnam?
What is a loft apartment? Popular loft apartment features and designs in Vietnam
In this article, JHouse will provide you with useful information about loft apartment definition? The features of a loft apartment or the difference between a loft apartment and other types of apartments. In particular, JHouse will tell you the popular loft apartment designs in Vietnam.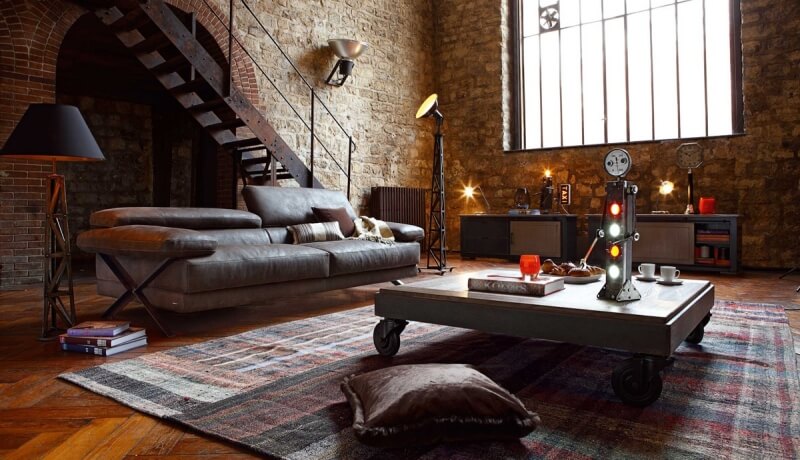 What is a loft apartment?
Loft apartment definition by Wikipedia
A loft apartment is an apartment located below the roof in a high-rise building, usually accessed by a ladder. Or to refer to an apartment with an attic (attic), consisting of open loft areas above. Loft apartments usually have open and spacious spaces.
A loft apartment is traditionally defined as a space converted from a warehouse or other industrial building into residential use.
Popular Loft apartment definitions in Vietnam
A standard loft apartment is an apartment with 2 connected floors, the upper floor is usually a mezzanine or is designed as an open loft with the lower floor. The floors are connected by vertical stairs or spirals. loft apartments are often found in high-end apartments with the purpose of creating a convenient living space and increasing the usable area more than ordinary apartments.
In addition, there is another concept of loft apartments. Loft apartment refers to apartments with a small area and loft above, connected to below by stairs.
In short, a loft apartment or a Lofthouse is understood as an apartment located on the roof or an apartment with a loft.
Other names for loft apartment: Lofthouse.
Read more: The difference between the 11 most popular types of apartments for rent in Vietnam
What is a loft space?
The loft apartment opens up a new concept of "loft space". So what is loft space?
Apartments with lofts, not necessarily in the attic, often make use of the space above your head by creating an elevated loft – accessible by stairs. The apartment has a loft that provides a little more living space for tenants.
Lofts are usually above the main living area and often open to the space below. Loft space often has low ceilings (common in Vietnam about 1.5 – 2.5m), but it is an ideal space to sleep (usually with a low bed or mattress). So the loft is a space overhead.
What makes a true loft?
We will wonder, what will the loft apartment look like? To answer this question, we are going to find out what makes a real loft.
Located under the roof or attic
With attic – loft
Layout according to open space, spacious, large windows
High ceilings, concrete ceilings
Exposed brick walls, pipes and beams
1. The layout of open space and mezzanine floor
Spacious, open space, high ceilings, large windows, … these are the features you will come across when mentioning loft apartment. In addition, the loft can also have a loft as a storage area or a bedroom. Most loft apartments have a lot of space and few walls, so there is plenty of space to store things and decorations.
2. Reveal texture components
Most loft apartments have exposed brick walls, same beams, ceilings with concrete or wood floors, and floor-to-ceiling windows. Most of the apartment's structural elements are exposed, often causing visual discomfort, so owners often repaint them to a neutral or solid color to make it easier to see.
3. Expose M&E systems
The loft apartments do not have close ceilings and expose electrical systems, refrigeration and fireproof piping. Systems such as ventilation, plumbing, and electrical wiring are used as original decoration.
4. Use of industrial materials
Brick is the main material, combined with other materials such as metal, glass, concrete, stone and wood. In general, the materials used are industrial style. Design colors are usually white, gray, wine red, metallic original color, chestnut brown or natural wood color. Don't confuse lofts with conventional industrial-style apartments.
What is the difference between a loft apartment and other types of apartments?
If you have trouble determining which is a loft, which is a regular apartment and a duplex. Some explainations below will show you the difference between them.
The difference between a loft apartment and a condo
A typical apartment has 1, 2 bedrooms (maybe more), and the functional areas are clearly divided by walls. Ordinary apartments will not have an attic or are not located in the attic. The loft apartment is an open space, the upper floor connects to the lower floor – not dividing the space by walls. The loft may or may not have an attic and may be located in the attic.
The difference between loft and duplex apartments
At first glance, we will easily confuse loft and duplex, because both are understood as apartments with 2 connecting floors. However, the difference here is that the duplex apartment has walls separating the functional areas, not open spaces, so the upper floor cannot see the lower floor. The loft apartment is the opposite.
Read more: What is a duplex apartment? 5 benefits you need to know when renting
Difference between loft apartment and studio apartment
Both loft and studio have open space. However, the loft has differences compared to the studio such as: the apartment is located in the attic, the industrial-style design exposes the walls, ceilings, beams and M&E system, or the difference is worth mentioning. The loft has a loft and the studio doesn't. In addition, lofts often have larger area, larger windows and higher ceilings than studios. The loft has a larger kitchen than the studio. And finally, loft apartments often have higher rents than studios because of the larger area.
Read more: What is a studio apartment? 10 advantages and 5 disadvantages you need to know when renting
Popular loft apartment designs in Vietnam
For western countries, apartment lofts have two typical types: Hard Lofts – and Soft Lofts. So, what is the difference between Hard Loft and Soft Loft?
Hard loft
The hard loft is an industrial-style loft apartment that exposes brick walls, ceilings, beams, M&E systems, etc. in warehouses or industrial buildings converted into apartments. Most have no attic. Hard lofts are also known as true lofts or real lofts.
Soft loft
Soft lofts are newly built or renovated lofts in the style of hard lofts with industrial design with a modern look. Most have a loft that creates the experience of another separate room. Soft loft lacks nostalgia, charm and time stamp than the hard loft.
In Vietnam, the criterion that accounts for most of the identification of a loft apartment is "loft – attic". Most loft apartments are designed in soft loft style. A newly built or renovated apartment, not necessarily in an attic or industrial design. Below are two common types of loft apartments you can come across when looking for loft apartments:
Loft apartments in apartments – Lofthouse
Lofthouse is a type of apartment designed with 02 connecting floors. The space of the upper floor is open space and can see the downstairs space. This is the difference with duplex apartments. Lofthouse can be located on any floor of the apartment, not necessarily in the attic.
The average ceiling height of a Lofthouse is from 4-5m (the average ceiling height of a typical apartment is 2.7 – 3.2m). This means an increase of 25 – 30% more living space for the apartment. The average usable area is from 100 to 250 m2. Usually, the lower floor of the Lofthouse is the main living and working area. Upstairs are the bedrooms.
Lofthouse apartments are located in high-class apartments with many modern facilities such as a swimming pool, gym, children's play area, shopping area, … synchronized residential community, near shopping areas, dining and entertainment, as well as convenience in travel.
Loft apartment in a serviced apartment building – loft-serviced apartment
Loft-serviced apartments usually have a smaller area than a Lofthouse, from 40-100m2. However, the design is like a Lofthouse with the lower floor being the main living area and working place, the upper floor can be a bedroom or a workplace.
Loft apartments in serviced apartment buildings are small in scale, so they often have no or little accompanying amenities. Therefore, the rent is somewhat cheaper than the Lofthouse.
Loft apartments are simply apartments located in the attic and/or loft, designed in an industrial style with high ceilings and open spaces. The loft apartment truly will bring nostalgia, charm and the mark of time – an artist living space. The concept and criteria to identify loft apartments in Vietnam are a bit flexible compared to western countries but still retain the inherent characteristics of lofts. And, the popular loft apartment designs in Vietnam are soft loft.
---
JHouse Content Team
The in-depth content development team on housing services for foreigners & Vietnamese in Vietnam. The content is simple, easy to understand, logically arranged to bring readers useful topics and information from real experiences. JHouse welcomes sharing & copying from you – Attach source & quote from JHouse, please!